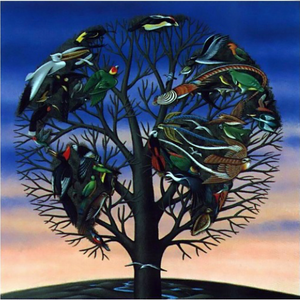 Talk Talk was always in my very short list of Actually Good '80s Synthpop Bands, but things got really interesting by their third album The Colour of Spring, wherein they begin to step out of the pop mainstream and dip into stiller, deeper waters.  It still included irresistible, ebullient tunes of the kind that made their reputation (Happiness is Easy, Life's What You Make It), although even these contained their share of surprises (Massed recorders?  Children's choirs?  Of course!), but in other tracks they delved into a sound-world that better matched singer/lyricist Mark Hollis's more minimalist inclinations, addressed more by Miles Davis or Debussy than by pop.   It was music that took its time to build, leaving space to contemplate a single organ chord or an opaque lyric, before taking a turn into something unexpectedly intense or fragile. 
By their last two albums, Spirit of Eden and Laughing Stock, they had entirely abandoned their pop ambitions and plunged into a world of long improvised grooves, coloured by very non-pop instruments like bassoon and muted trumpet, draped around Hollis's tremulous vocals.  I've read that both albums were recorded in the dark, which included leaving their session players pretty much in the dark about what to play.  Then they spent months mixing the raw material every which way until they were satisfied, which is pretty much what I do.  The result was later called "post-rock".  Voila!  They had spawned new genre, about which I don't imagine them giving a toss. 
In 1992 their disassociation with the world they had outgrown saw them quietly disintegrate.  In 1998 Hollis released his eponymous solo album, which took him a further step down the minimalist path.  Sometimes his voice is hardly there at all, a quiver ruffling the slow, spare, acoustic groove.  This album has become one of my desert island essentials.  Half of what I've done with Aquiline and other projects has started off as an attempt to duplicate the atmosphere of tracks like The Watershed, invariably failing, although so long as it goes somewhere else interesting, I consider it an okay failure. 
By that time, Hollis had retired to focus on family.  For twenty years I waited for him to re-emerge with some miraculous new thing, but when I learned of his death in February this year, that dream died too.  Luckily others from the group have been active, notably bassist Paul Webb, working under the name Rustin Man.  In 2002, out of nowhere came Out of Season, a collaboration with the cult singer Beth Gibbons.  Do I dare say it's even better than her work with Portishead?  Well, I can say it's an even better fit with my aesthetic, and the simply arranged, thoughtful songs give her the chance to deeply mine the vulnerability that's always been part of her work. 
Then, just a few months ago, Webb released his first solo Rustin Man album, Drift Code.  Apparently he'd taken that much time to teach himself every instrument he wanted on the album.  His voice is like a baritone Robert Wyatt and his arrangements are as surprising and imaginative as you would expect from an alumnus of one of history's great bands. 
Lots of artists will cite Talk Talk as influences, and you can feel the love in some of the pieces on the Spirit of Talk Talk tribute album from artist as diverse as the enigmatic Thomas Feiner, jazz minimalist Matthias Vogt, and another hero, Nils Frahm, over whom I will gush at length sometime in the future.
Play my playlist on your platform of choice via SoundsGood
Or use the player below.  Click on the V to the right of the play button to see a choice of platforms.  Playing within the player itself will only play excerpts.